In The News

Blickley Family in Togo, West Africa




Write to us!
The pond has small fish and lots of frogs.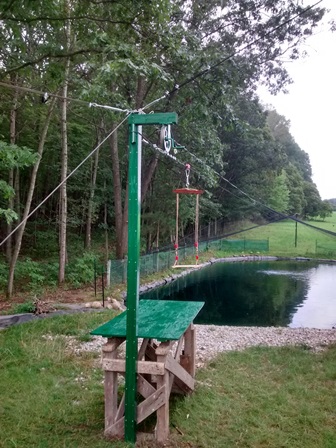 Take Zip Line across, or drop into the pond.

Youth Group Support
* A volunteer service for groups from lower income neighborhoods since 1994 *
Tubing for 1&1/2 hour trip down the white river

A FREE "Primitive Camping" in farm Setting
Outhouse, hand pump water, electric
Area built to support your group.

For small groups, we can provide inside sleeping and eating space in the bus/motor home.

We can provide tents, an outside kitchen,
and storage space for larger groups.

Diamond Lake Public swimming 3 miles away

1 1/2 hour White River tubing 3 miles away.

National forest hiking 1/4 mile away.

Wild Flower Preserve Loda lake 3 miles away.

Minnie Pond Water Fowl Refuge
waterfall and swimming 3 miles away

Swimming at Minnie Pond
Your group leaders are responsible for programming, the organization, and the supervision of your group members.
We support youth groups with individual items and food storage trailer, tents, and an outside gas cook top.




Eight grass camping sites along the national forest



Hand Pump & windmill driven water supply
Camping in a farm and forest setting.


Primitive men and women toilet house with outside light.

We have a bus/ Motor Home once traveled the country but now is used on a stationary farm setting campground for small groups.

For small groups, with special notice we can provide inside sleeping and eating space in the bus/motor home shown below.

Our stationary Motor Home is a
customized military bus.
The bus has two twin size bunk beds, a toilet, and sink available.

| | | |
| --- | --- | --- |
| Trail hiking in the Manistee National Forest | | |

Tubing on the White River

Swimming at Diamond Lake and White Cloud Lake Park
| | | |
| --- | --- | --- |
| | | |
If you're there at the right time, you can see real farming activity.