They have driven as far as Lincoln, Neb., to pick up a load of used hard drives from a computer salvager.

By Morgan Jarema

TM Grand Rapids Press

Vivian and William Jackson want to give their five Sons every opportunity to excel in school.

But the Southwest Grand Rapids family has been through hard times recently that have made it difficult to provide some opportunities that many consider basic.

The Jacksons don

*t own a computer, the boys — ranging in age from 12 to 17— do homework that requires a computer at school or the library.

Given that school and library hours are limited, that sometimes makes cornpleting assignments a challenge. And making copies of Internet pages costs money, which right now is scarce for the Jacksons.

But they might get some help. They recently applied to a local program that provides free computers to families.

Call it the ministry of megabytes. To bridge the gap between families who can afford home computers and

those who cannot, Bill Blickley and his wife, LaVerne, have refurbished and donated used computers to students in inner-city Grand Rapids neighborhoods for four years.

Working from their Eastown home, the couple*s Wherever God Wills ministry gives computers to students — seventh grade to adult — who don*t have a computer in their home and can demonstrate a financial need and prove they are making a good effort in school.

Applicants must do 10 hours of community service at the charity or nonprofit organization of their choice to get the computers. The machines come with six months of free Internet service, which can be extended for $5 (Now $8.88) a month after that.

"It*s about loving your neighbor, looking to where other people have needs, and you have the resources to meet those needs," Bill Blickley said.
COMPUTER GIVEAWAY

For more information about the Blickleys

* computer giveaway, call 452-2683 or visit www.wherevergodwllls.org or
go to any Internet search engine and type:
"free computers Grand Rapids."
Donations are tax deductible.

The computer ministry started when Blickley, a former Grand Rapids city commissioner and self-taught technician, heard about kids in his neighborhood who did not have computers at home.

"If people don

*t have a computer at home by now, they*re pretty low income," he said. "One of the things that keeps different groups at each other*s throats is when one group has resources and the other does not. There*s a resentment that comes from that, and our society must treat people fairly."

Blickley scours Internet auction sites and liquidation sales for computers. He and his wife have driven as far as Lincoln, Neb., to pick up a load of used hard drives from a computer salvager.

Once he gets the computers, Blickley takes them to his basement workshop where, with help from Grand Rapids Christian High School intern Thahn Nguyen, 17, he rebuilds them to a standard configuration.

Floor-to-ceiling shelves teem with hard drives and other hardware. File cabinet drawers are filled with unopened versions of Windows, Microsoft Works, Microsoft Office and Microsoft Money, which Blickley said he bought at bargain prices on eBay.

In addition to installing a Windows operating system, Blickley includes Office or Works, a money management program and a Bible tutorial. The donated PCs — which come with an Internet filter to help keep youngsters from straying onto questionable Web sites — include a monitor, mouse, mouse pad and a dot-matrix printer.

When families come to pick up their computers, they get a one-hour tutorial in the Blickleys* dining room.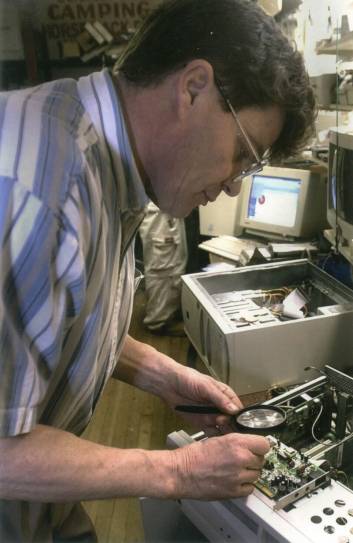 Press Photo/Liz Orozco
Bill Blickley, of Eastown, works on a computer in his basement workshop.

Blickley said he happily accepts older software, which he can install on the -computers — as long as donors include the license and manual.
"People need to not throw away that older software and give it to us," he says.
He estimated that he invests about 10 hours into every computer that goes out the front door. Because donations now account for the majority of his stock, he expects the ministry to break even this year for the first time, he said.
"I was buying everything in the beginning," Blickley said.
"And Dumpster diving," added his wife, a Grand Rapids Christian School teacher and a Grand Rapids Library Board member.
Celia Scott, case manager for the self-sufficiency project of the West Side Complex, said her organization has referred as many as 40 families to. Wherever God Wills during the past 12 -months.
She said the ministry has made such an impact on local families that she nominated the Blickleys for a state community action award, which they will receive this year.
"(Bill) just does marvelous work and really asks for nothing for himself in return," Scott said. "He and his wife have just made a commitment. We can*t even begin to see the total impact that he*s had yet."
SATURDAY, APRIL 17, 2004 --- THE GRAND RAPIDS PRESS ---